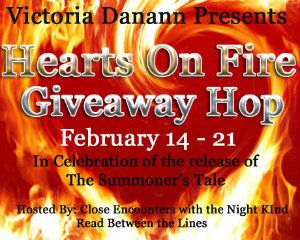 Welcome to the Hearts on Fire blog hop hosted by author Victoria Danann, Close Encounters with the Night Kind and Read Between the Lines. Thanks lovely ladies!
There are great blog hop prizes up for grabs, including:
Two Kindle Paperwhites with book package
Read 2 Review (Kate) and GMTA UK: (5 to 10 books that will be announced)
Danica Avet Winners: choice of backlist
Airicka Phoenix: E-copy of Games of Fire, Touching Smoke, & Touching Eternity
Katie Salidas: E-copy of Moonlight and Sweet Surprises! By her and Willsin Rowe which also releases on Feb 14!
Sara Trimble: E-copy of A Woman's Revenge
Michelle Graham: E-copy of Landing the Big Ones
Kim Mullican: Yoder's Farm, Taking Control (Book 1 Control Series),Control (Book 2 Control Series), Immortal Decision
Cambria Hebert: Ecopy of Recalled and a Winners Choice from the Heven and Hell Series Ecopy
M.L. Stephens: Ecopy of Love You More
J Kelly Acinni: 5 sets of paperback copies of Baby and Echo US only
Susan Griscom: Reflections and Whisper Cape
MaryLynn Bast: Heart of a Wolf Series
Susan D. Taylor: Secret Desire
Three sets of Black Swan: Books 1-3 paperbacks signed by Victoria Danann (1 and 2 being US only)
Twenty sets of Black Swan: Books 1-3 e-books and
$60 choice giftcard
I'm offering up 1 Autographed copy of Angel of Death and 2 Kindle or Pdf copies of Angel of Death.
About Leigh Savage
Leigh Savage lives in Saint Louis, MO with her husband and two children. Leigh is known for her paranormal erotic romance novels Angel of Death and Shadows of My Past. She has also written a collection of short stories called Bound by Blood and her new release Dream Dragon the Dark Side of Poetry. Leigh is currently working on her next paranormal erotic romance short Surrender to the Night that's a prequel to Angel of Death as well as book three in her vampire series called Embrace of the Immortal.
"I grew up loving to escape in the world of stories that my Father would write just for me. So, it wasn't any wonder that as I got older, I too picked up the pen and started writing."
Except: Angel of Death
In moments Mika straddled on top of him.
The tip of his desire was pressed against her warmth.
She nibbled softly on his lower lip sending small shivers coarse through him. Mika's own need resurfaced as strongly as the first time.
She had hoped that the physical attraction they shared was a fluke, but she was soon finding out that it wasn't. For all the emotions she felt on the first coming together were just as strong. Angry at herself she became more aggressive in their love making. Somehow, she knew she couldn't lose control of herself. She needed to be the one in control in and out of the bed, and she knew just how to get it. Her lips left his lips and trailed kisses down his broad chest nibbling on his taunt nipples. Making the little goose bumps cover his warm flesh. Slowly she made her
way down to his swollen desire. Taking him in her hand she took him into her warm moist mouth. His body stiffened at the exquisite feel of her mouth covering his burning need. It took all his self
control not to lose himself in the feel of her lips and tongue.
Just when he thought he couldn't take any more she raised
up over him and guided him into her. She moved slowly at
first causing exquisite pleasure and pain at the same time.
Together they rose higher until they both cried out in their own release. Mika collapsed on top of him from exhaustion. Silently they lay together listening to each others breathing until finally they fell to sleep.
Other Novels By Leigh Savage:
Shadows of my Past (Book 2 Vampire)
Bound by Blood Collection of Short Stories
Dream Dragon the Dark Side of Poetry
Fill in the Rafflecopter for a chance to win then click on the links for the other Author's for even more chances to win and more great prizes!
a Rafflecopter giveaway
A SUMMONER'S TALE: the vampire's confessor
AUTHOR:

by Victoria Danan
PUBLISHER:

7th House
ISBN:

978-1-933320-67-0 ebook

Words: 107,000
978-1-933320-80-9 print

Pages: 350
GENRE:

vampire romance, paranormal romance, urban fantasy,

paranormal fantasy
RELEASE DATE:

February 14, 2013
This is the third installment in a serial saga intended to be read in order.
DESCRIPTION:
A secret society, a witch, a psychic, vampires, modern day knights, heroes, elves, fae, assassins from another dimension, and fairytales come together where emotions intersect. Two souls, joined by a mystical bond, separated by distance, must simultaneously struggle through pain and darkness in an ultimate confrontation with character and an ultimate struggle for life proving that true love waits patiently through lifetimes and finds courage to survive. Even in the strangest places. Even when you're least expecting it. Even when you're far, far from home.
Erotic quotient: A little steam. No menage. No BDSM.
IMPORTANT: Black Swan Books 2 and 3 are available on Amazon.com exclusively as single titles. H
owever, a
The Order of the Black Swan COLLECTED TALES, Books 1-3
will also be released on or around Feb. 14th in e-book everywhere.
This is the story as it was intended to be read - without interruption.
ISBN:
978-1-933320-70-0

313,000 words

All three books for $6.99.
Book One - My Familiar Stranger: Romancing the Vampire Hunters (nominated for Reviewers Choice Best Paranormal Romance of 2012)
Book Two -
The Witch's Dream: A Love Letter to Paranormal Romance
Book Three - A Summoner's Tale: The Vampire's Confessor
Book Four - Moonlight: Big Bad Wolf

To release late Spring.
For the past fourteen years, Victoria has illustrated and authored Seasons of the Witch calendars and planners and written several non-fiction books on magickal arts. She lives in a town north of Houston known as The Woodlands even though the idea of the witch in the woods may be a
cliché
.
She owns 7th House Publishing and contributes to its enterprises. In addition to art and writing, she plays Classic Rock music (keys, rhythm guitar, vocals) and manages one of Houston's premier party bands. Married. Four children.
And now my give-a-way!
a Rafflecopter giveaway
Keep Hopping For More Prizes!!!